January 20th 2015


Our new site should be up soon.
For now please see Animaloons on Facebook.
www.facebook.com/animaloons
Balloon twister & entertainer Adam Jay, and his

Animaloons™

have appeared at these and many other events throughout the New York Tri-state area. Click on the links for balloon entertainment testimonials.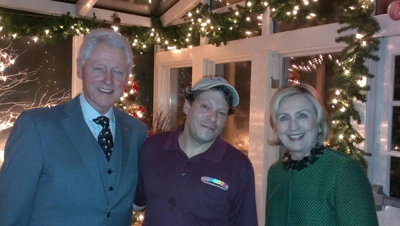 2014 was my 8th year making my Animaloons for the guests attending
this annual holiday party hosted by the Clintons.



Roaring Brook School
Chappaqua, NY
Winter Carnival - January, 2007
Ace Endico
Brewster, NY
Grand Opening Brunch - October 2006
Westorchard Elementary School
Chappaqua, NY
Family Fun Day - September 2006
Pound Ridge Republican Committee
Pound Ridge Country Fair
September 2006 & September 2005
Trump National Golf Club
Briarcliff, NY
Halloween Party - October 2006
Labor Day Brunch - September 2006
Millbrook Club
Greenwich, CT
Back to school night - August 2006
Rye, NY
Friends and Family Night - November 2006
Sidewalk Sales days - July 2006
Blue Mountain Capital Inc.
Company Picnic July 2006
Mt Kisco, NY
Graduation Party - June 2006
Yorktown, NY
First Grade Party - June 2006
Congregation Sons Of Israel
Briarcliff, NY
Family Fun Day - May 2005 & 2006
Briarcliff Nursery School
Briarcliff, NY
Family Fun Day - May 2006
Westchester Vipers Hockey Association
Elmsford, NY
Annual Awards Brunch - April 2006
Westchester Skating Academy
Elmsford, NY
Holiday Party - December 2005
Armonk Lions Club
Fol- de-Rol Country Fair June 11th & 12th 2005
Chappaqua Parents Preschool Association
Annual Picnic - June 2004