January 20th 2015

Our new site should be up soon.
For now please see Animaloons on Facebook. www.facebook.com/animaloons
About Adam Jay
Balloon Artist & Entertainer
---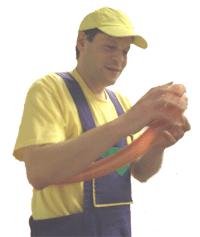 Adam was just a kid when he first became interested in magic and illusion. What began as a hobby soon became his passion. When he was twelve, he attended Tannen's Magic Camp, a week of intensive training in the art of magic and entertaining.

At thirteen he gained a mentor in Patches the Magic Clown. With Patches, Adam continued to learn all he could about magic. It was Patches who taught Adam his first balloon animals. Adam then began performing as Checkers the Magic Clown and providing children's entertainment around the New York area, throughout his teenage years.

Taking a break from magic, Adam turned to childcare and began working in group homes. After a few years, he realized that he had to return to his love – clowning, magic, and balloons!

Having decided to go back to performing as Checkers, and establishing The Chappaqua Clown Company, Inc. Adam set out to hone his balloon twisting skills. It was August 2003, while attending TJam On The Road with lecturer, balloon artist, David Grist that he realized that he wanted to put all his attention towards making the most amazing balloon creations imaginable. Adam's Animaloons™ was born.

In recent years, Adam took on the Herculean task of being a live-in nanny for a now 6 year old girl. He has trained with some of the top names in the balloon industry and regularly attends balloon twisting conventions like Diamond Jam. and Twist & Shout. He can be seen putting his skills to work at kids parties and corporate events all across Westchester, New York and the tri-state area. Always trying new idea and finding new inspiration, Adam continues to learn and perfect his art and plans on twisting for many years to come.

Adam's Animaloons™ serving New York, New Jersey, and Connecticut For information call (914) 227-6537 or email us
Copyright © 2005-2007 Chappaqua Clown Company, Inc. All Rights Reserved - Privacy Policy